February 26, 2009 – 1:31 pm
I had a great time yesterday presenting at the Front Range Student Ecology Symposium at CSU Fort Collins. It was an impressively well organized conference and I had a lot of really nice conversations with CSU grad students and others about my poster, which is here: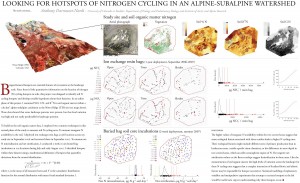 This poster was a continuation of a previous poster I made a couple years ago. Together, they summarize most of my findings on hotspots of N cycling on Niwot Ridge, which are admittedly a little meager, but for better or worse, there they are!
I also saw a cool presentation by one of the conference organizers, Aaron Berdanier, in which he talked about understanding water limitation in the alpine. I met Aaron last summer when he was working on Niwot Ridge. His idea was to try to figure out whether water limitation of plants was being caused by direct impacts on stomatal conductance or by indirect impacts on microbial nutrient mineralization.
Both of these things could be occurring at different times and it would be neat to try to separate them in field experiments. Aaron presented some nice data on δ13C of Polygonum vivipara, a common alpine forb, showing that their carbon isotopes didn't vary much in different moisture conditions. This is pretty interesting, since it is somewhat contradictory to a map I made of soil carbon isotopes in alpine and subalpine meadows in which soil δ13C correlates fairly well with moisture regimes across the landscape.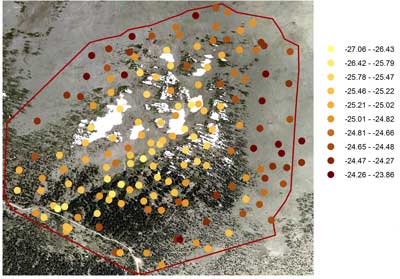 There are many things that could be going on here and it would be cool to figure it all out.